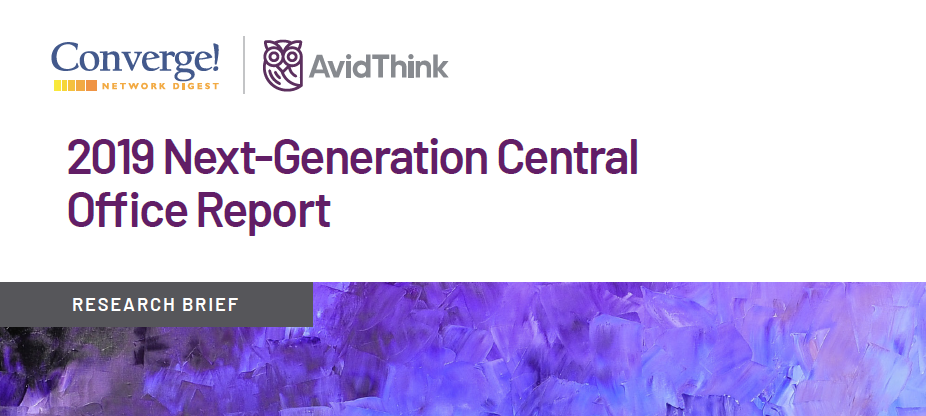 by Lior Mishan
The evolution of central offices into small cloud data centers – with commodity servers and network function virtualization infrastructure (NFVI) replacing fixed-function hardware devices – is the subject of the new, in-depth 2019 Next Gen Central Office report by the research firm AvidThink.
These Next Gen Central Offices, are needed so service providers can prepare, as the report says, "for an onslaught of high-speed devices and bandwidth-hogging content." Providers are facing the limits of inflexible, hardware-based centralization and the need to distribute workloads to be closer to the user, as well as to meet the clear industry demand for lower latency performance.
5G will help, but the bold promises of ultra-high speeds and millisecond latency can only be achieved by offloading backbone networks and moving content and services to the edge.
We have written about this important topic ourselves, in our white paper, Enabling the Virtualized Edge with SmartNIC Data cceleration, and in several articles in industry publications, the most recent one by CTO Barak Perlman in Lightwave.
As the report notes, "The virtualization of carrier networks from fixed function hardware to SDN and NFV has improved the efficiency and capacity utilization of carrier infrastructure and their ability to rapidly introduce new services. These improvements have also increased customer expectations and the need for service innovation and increased speed and flexibility in service delivery."
In addition, a software-defined infrastructure also facilitates moving services to next-generation platforms like containers, serverless functions, and edge data centers to create competitive differentiation.
"A software-defined Next Gen Central Offices has strategic value by providing the foundation for secure multi-tenant services that enable new business models such as the ability to more easily resell capacity and services to third-party service providers; provide service bundles that include third-party products; and allow customer self-service installation and management of select network services," the report explains.
It goes on to emphasize that "A software-defined infrastructure that can span both massive scale out Central Offices and small edge locations offers carriers and other network service providers significant financial, technical, operational and competitive benefits."
These benefits include:
Faster time to market for new services and updates.
Greater scalability as virtual services displace physical hardware to allow rapid expansion of service capacity in response to short-term spikes in demand.
Reduced long-term CapEx and OpEx.
Reduced traffic and congestion in the network core as edge Central Offices offload high-demand content and services, enabling lower latency for service and content delivery.
Likely improvements in system-wide energy efficiency with fewer network hops and fewer pieces of equipment needed for service delivery.
Architectural decoupling of data and control planes, which leads to decoupling of service delivery from specific hardware, allowing independently scaling capacity and services/content.
Service customization flexibility, including the ability to deliver customized services and applications from a microcloud aimed at particular customers and with contextualized services and resource allocations tailored to them.
More choice of hardware and software products and suppliers thanks to the use of standard commodity hardware and OSS, which also translates to fewer technical support challenges since many components are interchangeable.
This must-read report goes on to explore in depth the characteristics and technologies associated with Next Gen Central Offices – including the role of FPGA-based SmartNICs. It offers a series of recommendations and next steps for service providers and enterprises. The report can be downloaded here.