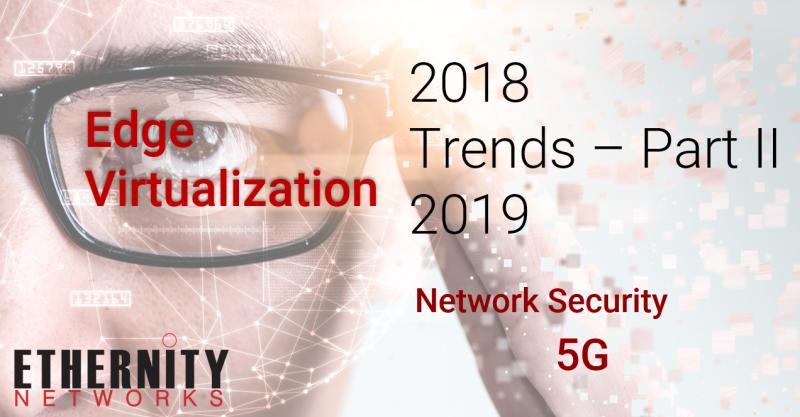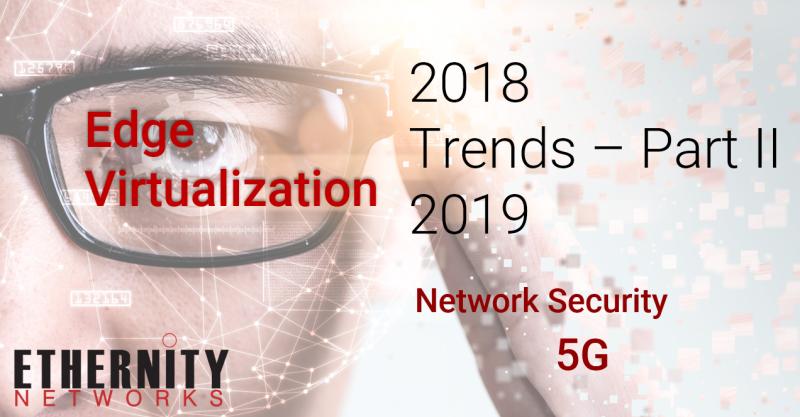 By Lior Mishan
Let's continue our look at the trends that we believe that had the greatest impact on telco networks in the past year, and will dominate the industry's attention in the coming year. In our last post we focused on the arrival of 5G, and today we'll look at another key area, edge virtualization.
Virtualizing the Edge
The move to the edge, in which carriers and cloud providers are shifting their networks from centralized hubs to virtual networking situated as close to their customers as possible, goes hand-in-hand with 5G. The lower latency that 5G delivers is amplified by the fact that many of the anticipated new applications and services are only possible when these resources, and the hardware accelerating them, are located closer to the end users.
In 2018, we saw an almost universal consensus emerge in favor of moving computing, networking, and storage resources to the edge. We have seen carriers such as Sprint, with its Curiosity Core offering, establish a fully virtualized and distributed network with nodes strategically situated at the edge, essentially at the doorstep of the enterprise customer. Tier 1 over-the-top cloud service providers are similarly moving from hyperscale data centers to smaller distributed centers to minimize delays.
Virtualization is essential for the edge to live up to its promises of benefits for both providers and their customers. We saw a huge increase in spending on NFV in 2018, and while final figures aren't in yet, IDC has predicted that NFV infrastructure spending would essentially double over last year's numbers. The analyst firm also anticipates another 72 percent growth over the next 12 months.
In fact, 2019 could very well be the year of the virtual central office (vCO). When you see 85 percent of operators saying that they are already deploying or are planning to deploy virtual COs, as was reported in an IHS Markit survey, you begin to understand the scope of this transformation.
The large number of open source organizations working on edge virtualization standardization projects is another testament to the great emphasis on the edge. There are projects such as Open Edge Computing, OPNFV (in multi-access, edge cloud, and virtual CO), CORD, and of course the ETSI Multi-Access Edge Computing standardization effort, just to name a few.
From the operators' point of view, the competition with over-the-top service providers such as Google, Amazon, and Alibaba is only going to escalate in 2019. Those providers who are quickest to adopt new technologies such as SDN, NFV, and SD-WAN will be in a stronger position to address their customers' service expectations. Vodafone, Comcast Business, Boingo Wireless, and CenturyLink are a few of the service providers leading the way, but virtually all providers are moving toward NFV deployments, leading to the prediction by IHS Markit that carrier spending on NFV will exceed $37 billion by 2021.
Key to those deployments will be increased usage of SmartNICs. Software-only network solutions tend to add latency, which defeats the purpose of the move toward the edge. Hardware acceleration in the form of VNF offloads to an FPGA-based data path, overcomes this challenge en route to fully programmable, open, and agile high-performance networks.
In line with that trend, 2018 saw a move away from NPU-based and multi-core SmartNICs by numerous companies. We detailed the reasons for this previously, but NPUs suffered from performance problems, the lack of a business case for ASICs, and the fact that NPUs simply weren't futureproof or easily portable. Over the past couple years, Marvell has discontinued its development of two separate NPU-based SmartNICs, as did companies such as LSI, Mellanox, and Microsemi, and Marvell also recently discontinued its Cavium LiquidIO multicore SmartNIC.
What is trending, with good reason, are FPGAs. Price reductions in FPGAs, in light of their growing usage in multiple vertical markets, has made a compelling case for their value. They are open, easily reprogrammable, and as Ethernity Networks has proven through our ENET Flow Processor, relatively easy to port firmware between Xilinx, Intel and newer FPGA chips.
With acceleration at the heart of the virtualized, edge-based, ultra-low latency networks, we expect to see more and more usage of FPGA-based networking acceleration in 2019.
A change in the way FPGAs are perceived was apparent in our own experience in 2018, talking with customers and others at trade shows and meetings. In 2017, we were often asked "Why FPGAs?" As we moved through 2018, that question became "Why Ethernity FPGA-based solutions?"
As industry leaders and influencers have come to realize that FPGAs are the answer, the focus has shifted to challenging us to prove why our technology is better. And one of the answers to that is in the die size, which Ethernity's patented technology can reduce to one-fifth the size of competitive solutions. With that smaller size comes greater flexibility and lower costs.
That is just part of the complete solution that comes with Ethernity Networks' FPGA-based SmartNICs, SoCs, and network appliances. With Ethernity, you can accelerate applications such as vRouter, VPN Gateway, vEPC, and vBNG to address the network edge efficiently and affordably.
In the final installment of this series, we'll address one more big trend of 2018-2019, advancements in network security.